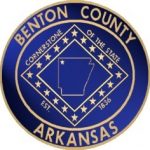 Benton County Circuit Clerk & Recorder
Circuit Clerk -Brenda DeShields
Filing Fees
Court Fees / Recorder's Fees / Passport Fees
The office of the Circuit Clerk accepts the following forms of payment: cash, personal checks, business checks, cashier's checks, postal money orders and non-postal money orders as well as accepting credit/debit cards.
We accept Visa, Mastercard and Discover!
Please note there is a service fee associated with all debit and credit card transactions.
Court Fees
For initiating a cause of action the Circuit Court (Civil, domestic, out of state judgments and all appeal(s) Ark Code Ann. §21-6-403(b)(1)
$165.00
For reopening a cause of action in the Circuit Court Ark Code Ann. §21-6-403(b)(2)
$50.00
Out-of-state subpoena
$2.50
For any cause of action which by court order is transferred from any district or circuit to a circuit court
$50.00
For initiating a criminal cause of action being appealed to the Circuit Court Ark Code Ann. §21-6-403(b)(1)
$150.00
For a petition for expungement or sealing of criminal records (for each case) Ark Code Ann. §16-90-904(a)(3)(A)
$50.00
Scire Facias: a Writ for a dormant judgment against a person to be revived
$20.00
Writs of Garnishment, Writs of Execution and Writs of Possession
$20.00
Circuit Clerk issuing subpoenas for civil and domestic cases
(When counsel requests for the clerk to prepare)
$2.50
Circuit Clerk issuing summons for civil and domestic cases
$2.50
For filing a pleading by fax (per page)
$1.00
Copy of a pleading (per page)
$0.25
For filing an appointment to serve as a Civil Process Server
$140.00
($5.00 for issuance of an ID card upon appointment)
For renewal of a Civil Process Server
$50.00
(plus $5.00 for issuance of an ID card upon approval)
Process Server Badge Fee
$5.00
Recorder's Fees
Recordable Instrument Requirements:
Original instrument
Notarized signature
Tax statement return address on document
Name of instrument preparer
Revenue stamps on warranty deeds (if revenue changed hands)
"I Certify" statement on all warranty deeds (and any deed that has revenue stamps affixed)
A self-addressed stamped envelope (if sending in by mail)
Compliance with Standardized Form Act 757 of 2003 (Or refer to Ark. Code Ann. § 14-15-402)
Surveys and Plats Requirements:
Two (2) original instruments
Signature on each instrument
Accompanied with a reduced copy, if larger than 18" by 24"
Mylar not accepted
Color plats accepted ONLY if accompanied with a black and white copy
Deeds, Deeds of Trust, Mortgages, Release Deeds, Powers Of Attorney, Plats, Survey Plats, Notary Bonds, Foreign Judgments (within the State of Arkansas), Lis-Pendens, Medical Liens, Mechanic's and Materialman's Liens, Federal Tax Liens, and any Recordable instruments except as otherwise described in this section Ark. Code Ann. §21-6-306.
$15.00

$5.00 for every page subsequent to the first

Note: a two-sided instrument counts as two pages

 Mortgage Assignments, Mortgage Releases, and other instruments Ark Code Ann. §21-6-306
 If a single document lists multiple instruments:

No fee for the first instrument.
Thereafter, a fee of $15.00 per additional instrument listed,
not to exceed $300.00

 Mortgage's or Trustee's Notice of Default and Intention to Sell (Ark Code Ann. §18-50-104) Ark Fee Code §21-6-306
 UCC Filings - Fixture Filings
 $12.00
 Termination Statement Certification is
 $6.00
 Certificate of Assessment of any other instrument not specified
 $8.00
 Authentication of a Court document or Court record
 $5.00
 Certification of a Court document
 $5.00
 Copy of a document (per page)
 $0.25
Certificate of Notary
$5.00
Copies of full-size plats (per page)
$3.00
DD2-14 forms
No charge
Bond in Contest
$15.00

And $5.00 for each additional page
Passport Fees
Fees described below apply to each applicant. Note passports issued to those 16 years and older are valid for ten years. Passports for children under 15 years are valid for five years and are not renewable. If you are behind in child support payments, you may not be able to obtain a passport. See Child Support. For assistance for special circumstances, visit the Recorder's Office or call 479-271-1017. Additional information may be found at the U.S. Department of State website.
Passport renewal applications may be completed if the applicant has previously had a U.S. Passport book/card issued within the past 16 years and issued when the applicant was 16 years or older. The undamaged U.S. Passport book/card should be submitted along with the DS-82 form and mailed to the U.S. Department of State by the applicant.
Please arrive no later than 4:00 p.m. at the Recorder's Office to process a passport application
Passport Application Requirements:
One (1) 2" by 2" Passport Photo
U.S. Birth Certificate (original or certified copy) or naturalization papers
Passport Application completed in black ink or typewritten
Driver's license or a state-issued ID card
For children ages birth to 15 years:

Both parents us sign the application in from of the accepting agent
Child(ren) must be present at time of application

For Children ages 16 and 17:

one parent must sign the application in front of the accepting agent
child(ren) must sign the application in from of the accepting agent
Application Fee (made payable to U.S. Department of State)*
Book, Adult (age 16 and over)
$110.00
Book, Children (age 15 and under)
$80.00
Card, Adult (age 16 and over)
$30.00
Card, Children (age 15 and under)
$15.00
Execution Fee ** (payable to Benton County Circuit Clerk's Office)
$35.00
Mandatory overnight delivery service to passport agency on all expedites

(payable to United State Postal Service)

$25.50
The Overnight Return Delivery Service fee is an optional fee charged when customers request to have their newly issued U.S. Passport book shipped to them using Overnight Return Delivery Service. Please note that Overnight Return Delivery Service is not available for the U.S. Passport Card. Customers applying for the passport book and the passport card will only receive the passport book by Overnight Return Delivery Service. Passport cards will be mailed to the applicants using first class mail service. Only applies to mailing addresses within the United States
$16.48
Expedite Fee (payable to the U.S. Department of State)
$60.00